why dune.net hosted muds?
Our plans start at $6.00 per month and are fully upgradable at any time, so you never have to worry about paying too much or not having enough. Mud start-up services and integrated webpages give you simplicity and peace of mind.
All mud plans come with the following features:
fantastic support - Whatever the problem is, we'll be there to help you. All you have to do is send us an e-mail and we'll try our very best to help you out with whatever you need.

no setup charges - You will never have to pay setup charges on your initial account setup, or if you make changes to your account. Why? This is included under fantastic support above!

low low prices - We offer you the best services at the lowest prices. And our prices have not gone up in 24 years, ever since Dune Internet arrived on the scene. You can feel safe that you will always get the best deal around!

super-fast servers - You don't want to have your mud hosted on a slow machine; neither do we. You don't want your players to lag; neither do we! We understand the importance of performance when running a mud so we only host your mud on top of the line servers with the newest in hardware and software. We're always upgrading our servers to fit your needs.

soft resource limits - Our resource limits are soft so your mud won't crash if it hits the resource limits. You'll be notified and have up to a week to correct the problem!

no minimum purchase - Unlike other servers, we don't require you to have a minimum of three months to start. You can try us out for just a month if you like!

no-hassle startup - Just fill out the signup form, choose the options you want, and you'll soon get an e-mail with any instructions to active your account. Fast, quick, and easy!

we don't resell - We're not a reseller. This means we own our own servers -- this means that the price you pay is bound to be the best there is around.
Finally, if you need helping getting started you can contact support for timely problem resolution or browse our knowledge database.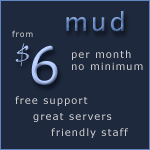 Special Deals

Get started on your basic mud account for as low as $6.00 per month!

Pay one year in advance and receive a 15% discount; pay six months and receive extra disk space.
Quick Statistics

There are print exec('/bin/netstat -ane | grep ESTABLISHED | wc -l'); ?> players logged into Dune Internet hosted MUDs and Talkers on tangent.dune.net