why talkers?
Dune Internet has been hosting the best talkers around, for many years. If the idea of letting loose your dreams, imagination, and creativity sounds like fun, running a talker is perfect for you! All you need is a little bit of creativity, and you can quickly start your very own talker and run it however you like.
take a look at ...
talker of the day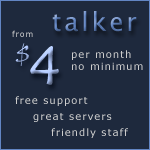 Special Deals

Get started on your basic talker account for as low as $4.00 per month!

Pay one year in advance and receive a 15% discount; pay six months and receive extra disk space.
Quick Statistics

There are print exec('/bin/netstat -ane | grep ESTABLISHED | wc -l'); ?> players logged into Dune Internet hosted MUDs and Talkers on tangent.dune.net